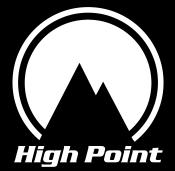 Copyright by HighPoint Products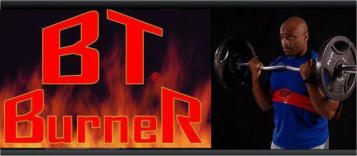 3 Minute Mexican
In many ways, this recipe may qualify as a
"perfect recipe" ...... Why ?
It is cheap --- It is fast --- It is easy---It is high
in fiber --- It meets the needs of most low
carbohydrate diets ---It is high in protein ---
and it TASTES BETTER than what you get in
most Mexican restaurants!
A winner all the way around.
Full Recipe for 3-Minute Mexican
Tiger Tear - Thai Beef Salad
One of my best friends owned an award winning
Thai restaurant in South Florida.
For many years, my wife and I visited his place
every Thursday night for our weekly "date night".
He always promised me if he decided to return to
Thailand, he would teach us how to prepare our
favorite dishes.
A few years ago my friend did indeed move back
to Asia, but we still keep in contact to this day.
I want to thank Paul Triam for this beef salad
recipe.
No doubt, you will thank him too after you taste
it.
Get the Full Recipe Here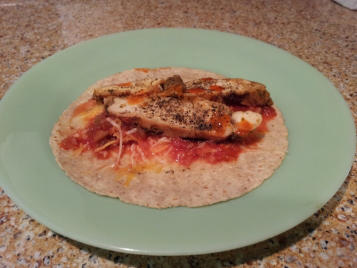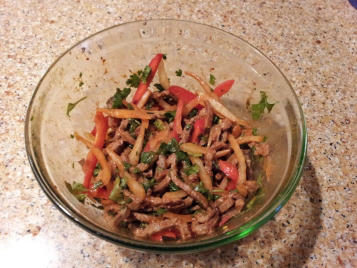 Jamaican Jerk Chicken Tossed Salad
Since many people like salads with grilled
chicken, here is a recipe that has more flavor than
you will find in most restaurant offerings.
This recipe features an oven baked chicken breast
seasoned with hot and spicy Jamaican Jerk
seasoning.
This is also a fast and easy recipe to prepare.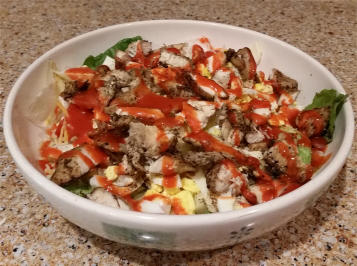 Ingredients:
8 ounces
Boneless Skinless Chicken Breast
1-2 Tablespoon
Walkerswood Jamaican Jerk Seasoning (to taste)
3 Cup
Tossed Salad Blend
2 Tablespoon
Salad Dressing (Catalina or Parmesan recommended)
¼ Cup
Mexican style mixed Cheese Blend (shredded)
Sprinkle*
Salad Supreme Seasoning (McCormick's) (* to taste)
Sprinkle*
Black Pepper (*t o taste)
2
Eggs (hardboiled - 10 minutes)
Directions:
1.
Slice Chicken Breast into 8-9 equal sized pieces.
2.
Rub & cover the chicken breast pieces with Jerk Seasoning.
3.
Bake or Broil Chicken @ 375 degrees for 25-30 minutes.
4.
Turn chicken several times to insure even cooking.
5.
Remove chicken from oven and allow it to cool slightly.
6.
Meanwhile, toss Salad Blend, Dressing and Cheese.
7.
Slice cooked chicken and Hardboiled Eggs into smaller pieces and toss into salad.
8.
Sprinkle with Salad Supreme and Black Pepper to taste.
Makes 2 servings : Each serving: Protein-32 gr. Carbs-13 gr. Fat-15 gr.
MAKE YOUR OWN PRE-
WORKOUT DRINK AND SAVE $$$
Pre-workout drinks can be expensive, but by
mixing up your own you can save 50-60% and
actually get a higher concentration of active
ingredients.
My personal formulation is as follows ...
Glutamine

Powder (1 tsp) = 5.0 grams
Creatine

Monohydrate Powder (1 tsp) = 5.0 grams
Mixed in 20 ounce of Water
Add

Jolly Rancher Watermelon Flavoring

to taste.
Then take these as pills before heading to the gym.
L-Arginine

(pill) 500 mg
Caffeine

(pill) 100 mg
The reason for taking L-Arginine as a pill is to avoid the sharp taste it would otherwise impart to
the drink if it were added as a powder.
The caffeine pill is simply convenience and easy dosage accuracy -- although you could buy this
as a powder too if you want to (and are careful with measurements).
Michael Spitzer - Author - Fitness at 40,50,60 and Beyond